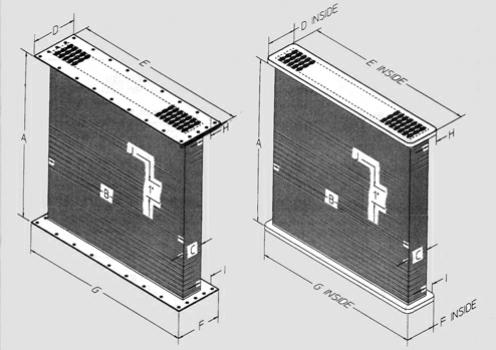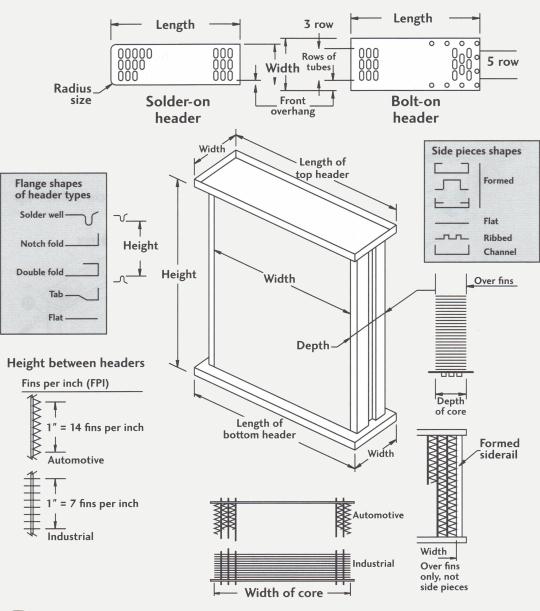 A.    HEIGHT OF RADIATOR CORE

B.    WIDTH OF RADIATOR CORE

C.    DEPTH OF RADIATOR CORE

D.    WIDTH OF TOP HEADER

E.    LENGTH OF TOP HEADER

F.    WIDTH OF BOTTOM HEADER

G.   LENGTH OF BOTTOM HEADER

H.   TOP HEADER OVERHANG

I.     BOTTOM HEADER OVERHANG

J.    NUMBER OF FINS PER INCH

Radiator Core Hieght: This measurement is always between the headers. It does not matter if the radiator tanks are side-by-side or top to bottom.

Radiator Core Width: This measurement is taken across the face of the core, between the side support rails. Do Not include the thickness of the side rails, only the fin core surface itself.

Radiator Core Depth: This measurement is best attained using a probe such as a coat hanger. Push it through the fins until it reaches the opposing surface, and use your fingers to hold the dimension of the wire that went into the core. Extract it carefully and measure it.

BOLTED CORE

1. NUMBER OF BOLT HOLES

2. SHAPE OF HEADERS

3. MATERIAL GAUGE OF HEADERS

4. COPPER, BRASS, OR STEEL FIN MATERIAL

SOLDER ON CORE

1. RADIUS OF HEADER

2. DROP SEAM (FORMED HEADER)

3. MATERIAL GAUGE OF HEADERS

4. COPPER, BRASS, OR STEEL FIN MATERIAL

Additional information upon ordering

ROBERT RADIATOR CORE MANUFACTURING INC

ROBERT RADIATOR CORE MANUFACTURING INC